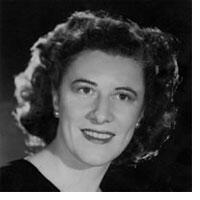 Florence Krenz Mack was born in San Francisco in 1911. She graduated with a B.A. in Economics in 1932 and then earned a graduate Credential in Social Welfare in 1933. Until 1939, when it was established as a separate department, the study of Social Welfare was housed as a program within the Department of Economics and was called Social Economics. From 1927 through 1939, students could earn graduate certificates in Social Services accredited by the American Association of Schools of Social Work. Mrs. Mack participated in this program, specializing in child welfare. Its students were mainly women, and its curriculum overlapped little with traditional economics, in what was then regarded as a man's field.
Mrs. Mack became a professional social worker, serving in the San Francisco Emergency Relief Administration, the Children's Agency of the San Francisco Associated Charities, and the Public Welfare Department of San Francisco. She later married Milton Mack, founder of Milton Mack Associates, a real estate company. Mr. Mack died in 1974. Mrs. Mack died in 1998. The Milton and Florence Krenz Mack Graduate Fellowship Fund was established along with a Distinguished Professorship in Nonprofit Organization Management, and funds for doctoral and masters fellowships as well as the Mack Center.
Marie Krenz, who was married to Mrs. Mack's brother, offered the following words reflecting on the life of Florence Krenz Mack:
Florence Krenz Mack was a reserved, introspective child who nonetheless garnered a circle of lifelong friends as she developed into a compassionate, caring adult. Throughout her childhood she immersed herself in school activities, often holding elective office. At the University of California her interests refined themselves into a Social Welfare major which eventually led to graduate studies in the same field. Highly appreciative of her family example and educational privilege, she devoted her working career to alleviate the deprivations of those in need. To this end, Florence Mack obtained a position with the San Francisco Department of Social Welfare and ultimately rose to one of its highest positions.
After a fulfilling career, Mrs. Mack left the department for marriage, home, and family, but she never lost her driving interest in the welfare of others. As each day's mail arrived, she stacked petitions for charitable donations to one side. Even into her senior years, she read every one and contributed to many, but only after careful evaluation of need and of the administration of each. At Christmas time, favorite charities received special consideration. A constant in her life was her recognition of the importance of education and particularly of the University of California as a source of opportunity and advancement. The legacy of Florence Krenz Mack continues and presents a picture of a lady who has found a way to combine her compelling interests in education and in the well-being of others.